The Battle Against Eczema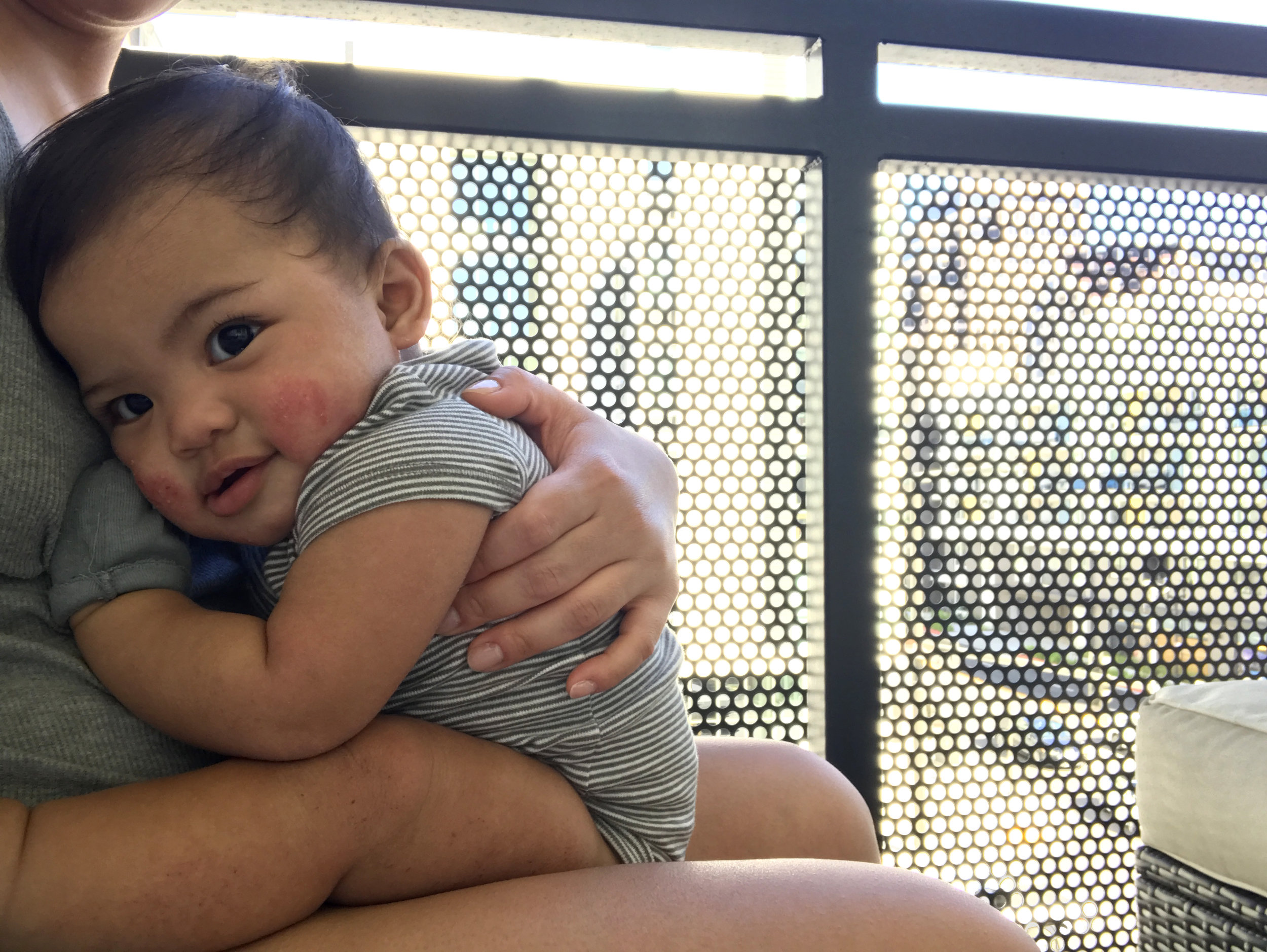 Duration: 4 Months - Present (9 Months).
Eczema.
 
PLEASE NOTE: I AM NOT A DOCTOR AND AM ONLY SHARING OUR EXPERIENCE WITH ROCKY. ALWAYS CONSULT WITH YOUR PEDIATRICIAN BEFORE TRYING ANY OF THESE PRODUCTS.
 
When Rocky turned 4 months old, eczema reared it ugly head and flared up aggressively on her cheeks and eventually traveled down to the creases in her elbows and knees. I didn't know what to do! She could no longer sleep through the night because of how itchy she was. Her cheeks were becoming so raw and "oozing" for a lack of a better word. Her pediatrician prescribed the antibiotic Mupirocin to stop the "ooziness."
We then tried the prescription cream Desonide which contains a little bit of steroids to help heal the skin and control the itch. The Desonide is only 0.05%, but because the steroids are so strong, we were only told to use it twice a day for up to three days. Any longer and it could potentially thin her skin and do more harm than good. We only use the Desonide in extreme cases. We also slathered her in Aquaphor to keep her skin moisturized and always had the humidifier running.
Although Aquaphor was highly recommended, we realized that it wasn't helping as much as we thought it would at controlling the flare-ups and healing her skin quickly. So, we decided to explore other lotions and creams to see if any of them would make a difference and here is what we found:
Gold Bond: Eczema Relief with 2% Colloidal Oatmeal
This lotion didn't work too well for Rocky, in fact, it seemed to make it worse! She would get tiny, itchy red bumps on her belly. We also saw this with Aveeno bath wash.
Cetaphil: Restoraderm Eczema Calming Body Moisturizer
This lotion is good for everyday use. We put it on Rocky every few hours just to keep her skin hydrated. It's not my favorite product, but it works for now as a basic moisturizer. It's a little thin, but does absorb quickly.
Neosporin: Eczema Essentials Daily Moisturizing Cream
This cream works! It's hard to find in stores, so I had to order our bottle from Amazon. When Rocky scratches, her skin gets raw and open cuts sometimes form because of how hard she's scratching. This cream has a little bit of Neosporin to help heal those open cuts while controlling the itch. Once we use this cream on her, the redness starts to disappear and her open cuts start to scab. It's amazing! We only use this cream up to three times a day when necessary.
Cortizone 10: Eczema
This 1% Hydrocortisone also works wonders. Within 3 days, Rocky's skin looks completely clear! The only downside, is that you can't always use this cream because it has a mild steroid. We use this cream only when she has flare-ups and only apply it three times a day for up to three days.
Aside from changing her lotions and creams, we switched her baby wash from Johnson & Johnson to Aveeno (which made it worse) to Cetaphil as recommended by her pediatrician. The Cetaphil seems to work, but I also plan on trying the Dove soap bar. It was recommended by a friend who has eczema herself as does her toddler son.
I know the battle may or may not end in the near future, but I'm glad we are finally starting to find products that work for her. If you have any other eczema tips, I'd love to hear from you!
xx, g